| | | | |

Favorite Links: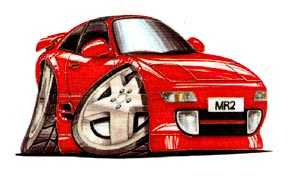 International MR2 Owners Club - IMOC
The essential MR2 web site for all owners w/tons of historic info available

International MR2 Owners Club Message Board
A great message board for the MR2. You can review current products, companies, buy/sell parts and ask for help from fellow MR2 owners

MR2 Racing Records
Cool site that posts the timeslips, WHP/WTQ #s & videos of the fastest MR2 in the world

The MR2 Electronic Parts Catalog
This EPC site contains exploded diagrams of every component including part numbers for every part in the car - cool info to have available

CJ Motorsports
CJM is known for their import tuning, specializing in MR2's & Honda's. Charles (the owner) has a clean shop, very knowledgable staff, good prices, an above ground dyno & only 15mins from my house!!

TAP Recycling
A salvage yard specializing in Toyota/Lexus parts. I've used them a few times w/excellent results

Milex/NAPA Auto Care Center
General and major auto care service in the Chicagoland area. The ONLY place I trust to work on my cars!!

Silo's MR2 Specials
Silo's performance store dedicated to MR2's supplying new OEM Euro/Jap spec parts to the US

Partznet - Conicelli Dealership
MAJOR OEM import part dealership - BEST dealer prices, fast shipping w/great customer service

LO-KO Performance Coatings
LO-KO applied all my ceramic coatings - fair prices w/great customer service

Chico Race Works
Chico specializes in MR2 tuning/parts & also supplies quality used JDM parts. Josh (the owner) is a great guy, very knowledgeable & runs an honest business

Sound Performance Racing
SP is a leading tuner of Toyota's, specializing in high HP Supra's - Vince did a great job of tuning my 2!!